WordPress fan? Get the most compatible and functional social media buttons for your site. Use Shareaholic for WordPress.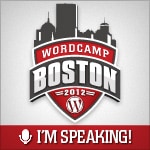 As a top WordPress plugin, we clearly love us some WordPress around the Shareaholic office. That's why we're thrilled to announce that we are proudly speaking at and sponsoring next month's Wordcamp Boston conference!
I'm presenting on the topic of shareable content strategies. The session title is: Everyone's a Publisher – Creating Awesome Content, Not Noise.
It'll be a quick half-hour session, but I hope to jam-pack it with lessons learned from running this here blog. I'll walk you through the things you need to think about when creating an editorial calendar, and how you can measure your content's success. We'll go over things such as:
– What you should put in an editorial calendar (Including recommended plugins. Yes, we'll share the love and recommend other plugins besides ourselves!)
– What to consider before even writing a blog post (Personas, keywords, topics. Friends don't let friends post without a plan!)
– How to get your content written (Guest posts, freelancers and interns – pros and cons of each.)
– How to measure your efforts (What to track and how. More plugin recommendations!)
I'm hoping to share some data we've learned as well by watching the general publishing trends from our 200,000 publishers and what seems to work or not work for different kinds of websites. What works for a law blog may not be so awesome for a cupcake blog, right? As you can tell by the obscene amount of exclamation points used in this description, content marketing is something I get really fired up about and I'm genuinely thrilled to get to share a little of what I've learned.
If you're in Boston, I hope you can join us! If not, we'll be sure to post the slides and keep you updated on some other awesome sessions that we attend. Can't wait!