More than 200,000 publishers use the Shareaholic plugin to help their audiences spread their content across the web. We've got some blogging tips to share, but who better to share some perspective than the publishers who live out those best practices each day with their own blogs?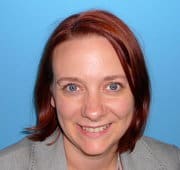 Today's featured publisher is Mary Ellen Slayter. Mary Ellen is managing director/founder at Reputation Capital Media Services, a content marketing and custom publishing firm focused on helping small and medium-sized b2b businesses. Before launching Reputation Capital, she served as director of content development at SmartBrief, a leading publisher of e-mail newsletters as well as another Shareaholic publisher. At SmartBrief Mary Ellen led the editorial development of the SmartBlogs network, including SmartBlog on Leadership and SmartBlog on Social Media. Prior to SmartBrief, she spent 8 years at The Washington Post, where she authored the Career Track column and worked as an editor in the business news department.
Here is our Q&A with Mary Ellen.
Shareaholic: How did you get started with RepCapitalMedia.com?
MS: After spending 15 years working as a journalist in the b2b space, I noticed that businesses were increasingly shifting their marketing budgets away from traditional advertising and toward producing their own content on their own web properties. I also noticed that many of them were struggling to produce consistently compelling content. What they needed was what we call a managing editor in the traditional publishing business — someone to articulate an editorial vision, and then map out the processes and resources needed to execute that vision. That's what we do.
Shareaholic: You blog a lot! How do you come up with fresh ideas?
MS:I try to answer the questions that come up in conversations with other marketing professionals and small business owners. My RSS reader would make most people cry. I keep a running list of topics, and I follow an editorial calendar.
Shareaholic: Should every business blog? Why or why not?
MS: Ideally, yes. There's really no better way to show off your staff expertise and drive SEO. But, culturally, many businesses just aren't ready. A great business blog requires an open culture and a lot of trust in your staff and audience.
Shareaholic: What do you know now about blogging and social media that you wish knew "back then?"

MS: That you shouldn't wait until you have a perfect plan to get started. Just jump in, and make adjustments as you go along.
Shareaholic: What advice do you have for beginners? How can people get started in content marketing for their small business?
MS: Start by describing your ideal client. What interests them? What's the flow of their day like? Find out what online communities they participate on. Join Twitter and LinkedIn as a listener, and make note of the issues that come up repeatedly. Answering these questions should be the core of your editorial plan.
Thanks for these great tips, Mary Ellen. Look forward to reading more of your posts.
Want more daily blogging tips from Shareaholic and other publishers? Subscribe to Shareaholic's blog to see posts like these.