---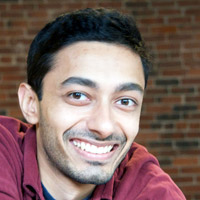 Before Shareaholic, Jay was VP of Products at Lookery, a targeted ad network that offered economical targeting data for over 200 million users. Prior to that, Jay was the Product Manager and founding member of Compete.com, now part of the WPP Group [Nasdaq: WPPGY]. In addition, as co-founder of PopSignal, one of Boston's largest professional networking organizations, Jay is actively contributing to the growth of Boston's technology startup community.
Jay earned a B.S. cum laude in Computer Science from Tufts University. He also minored in Entrepreneurial Leadership and Multimedia Arts. At Tufts he was awarded the MacJannet scholarship. Jay is also a Fellow of The Leadership Program at TiE and in 2012 was named to the TR35 India — MIT Technology Review magazine's annual list of the world's top innovators under the age of 35.
---
---
Robby is Shareaholic's Tech Lead. Before Shareaholic, he was a senior developer at oneforty, which was acquired by HubSpot in August 2011. Prior to oneforty, Robby wrote natural language processing software at Inxight, which was acquired by SAP/Business Objects in 2007. In addition, Robby has created the sendgrid_toolkit, middle_management and ArtPal open source projects, all of which are deployed on thousands of servers worldwide. Robby holds a B.A. in Computer Science from Wheaton College and an M.L.A. in Management from Harvard University.
---
---
Janet is Head of Marketing at Shareaholic. Prior to Shareaholic, she was a Marketing Manager at HubSpot, and the Director of Marketing at oneforty, a VC-funded startup acquired by HubSpot. Janet graduated from St. John Fisher College in Rochester, NY with a degree in Communications and Journalism.
---
---
Ginny is a Marketing Manager at Shareaholic. She graduated from Boston University with dual degrees in Communications and Psychology. At BU she was awarded the University scholarship. She was also President of the Public Relations Student Society of America at Boston University and is an avid runner and blogger.
---
---
Joseph is Director of Developer Operations at Shareaholic.
---
---
Zach is a Software Engineer at Shareaholic. Before Shareaholic, he was at Microsoft. Zach holds a B.S. magna cum laude in Computer Science from Brandeis University where he was awarded the Brandeis Presidential Scholarship for academic excellence. He then earned an M.S. in Computer Science from Worcester Polytechnic Institute and was awarded the National Science Foundation's GK-12 Fellowship.
---
---

Dylan is a Software Engineer at Shareaholic.
---
---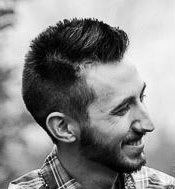 Dan is a Software Engineer at Shareaholic.
---
---
Joseph is a Data Scientist at Shareaholic.
---
---

Celeste is a Support Engineer at Shareaholic.
---
---
Chad is Director of Product Design at Shareaholic. Before Shareaholic, he was Product Designer and Manager at thoughtbot, inc where he helped early stage startups to build their products. Chad holds a B.A. in Social and Political Theory from Hampshire College.
---
Our tight-knit group of Advisors

Raymie Stata
| CEO, VertiCloud + Former CTO Yahoo!
Raymie Stata is CEO of VertiCloud, a startup building a hosted Big Data platform for data-driven applications. Raymie comes to VertiCloud from Yahoo!, Inc., where he most recently held the position of Chief Technical Officer. At Yahoo, he played an instrumental role in the development of Yahoo!'s infrastructures for algorithmic search, display advertising, and cloud computing. He also helped set Yahoo's Open Source strategy and initiate its participation in the Hadoop project. Prior to joining Yahoo!, Raymie founded Stata Laboratories, maker of the Bloomba search-based e-mail client, which Yahoo! bought in 2004. He has also worked for Digital Equipment's Systems Research Center, where he contributed to the AltaVista search engine. Raymie received his PhD in Computer Science from MIT in 1996.
Stephano Kim
| Former President and COO of [x+1]
Prior to joining [x+1], Stephano led investments in consumer technology and media for Advanced Technology Ventures, an early stage fund with more than $1.5 billion under management. Before joining ATV, Stephano directed business strategy and development at America Online, Inc. At AOL, Stephano advised executives on marketing, distribution and Internet advertising strategy. He also negotiated and managed key partnerships with global corporations, such as Hewlett-Packard, Sony, Dell, and DoubleClick. Stephano led software and service investments for OCI Ventures Group, the U.S. venture subsidiary of an Asian conglomerate with interests in media, consumer goods and manufacturing. He also co-founded two start-ups: Psylum, a content and community network for video and online gaming which was sold to USA Networks, in 2000; and Blackboard, Inc., the leading provider of e-learning enterprise software and services for which he served as director of operations. Stephano holds an M.B.A. with honors from Columbia Business School and a bachelor's degree in business marketing and management from Cornell University.

David Cancel
| Chief Product Officer, HubSpot Inc.
Before joining HubSpot, David was the CEO of Performable, a next-generation marketing automation software platform. Before Performable David was the co-founder & CTO of Lookery. Before starting Lookery he co-founded Compete.com, now part of the WPP Group [Nasdaq: WPP], where he was the CTO. Before Compete he was the CTO of BuyerZone.com, now a part of Reed Elsevier [NYSE: RUK]. In the late 90's he was a part of the founding team of Bolt.com & part of Lycos.com. David is on the advisory boards of Compete.com, Visible Measures, MyPerfectGig, Sonian Networks and Yottaa.
David is originally from New York City and now lives in the Boston, Massachusetts area with his wife and daughter.

Brian Shin
| Founder + CEO, Visible Measures Corp.
Brian is the founder and CEO of Visible Measures. Brian has co-founded several successful Internet software companies, including web-based collaboration technology vendor Creative Aspects, which was acquired by Medsite Inc. (now WebMD); and The Cambridge Intelligence Agency, a Web-based e-mail response management solution provider that was acquired by marketing services company MSGi. Brian also co-founded technology strategy consulting firm Infraweb, Inc., where he served as President, and was an early member of the team at Allaire Corp. which went public in 1999 and was subsequently acquired by Macromedia.
Brian enjoys trying new foods with his wife, holds an undergraduate degree from Tufts University, and earned an MBA from the MIT Sloan School of Management as part of the dual-degree Harvard-MIT Biomedical Enterprise Program.

Rob Go
| Partner, NextView Ventures
Rob is co-founder of NextView Ventures, a seed stage investment firm focused on internet enabled innovation. He was previously a venture capitalist at Spark Capital, a leading venture firm focused on the intersection of media, technology, and entertainment. Prior to joining Spark Capital, Rob worked at Ebay, where he was the Global Product Marketing Lead for "Finding". In this role, he launched over 20 products that significantly enhanced Ebay's search, browse, and merchandising capabilities. Previously, Rob was a consultant with The Parthenon Group, a boutique strategic advisory. He was a member of the firm's Private Equity Practice, where he focused on the consumer and retail industries. Rob has also held roles at Fidelity Investments and BzzAgent, an early-stage word-of-mouth marketing company. He also helped to found Letslink.jp, one of the first social networks focused on the Japanese market.

Andy Payne
Andy is a serial entrepreneur with over 15 years of experience building successful software businesses. He is an investor in several early stage startups including Care.com, Digium, HubSpot and SmartFlix, is co-founder of FanSnap, and advisor to Kayak.
Previously, Andy was a principal at Computational Biology Corporation (CBC), which was acquired by Agilent in 2004. Before CBC, he was Founder, President and CEO of Revenio, a venture-funded eMarketing software company he founded in 1999. Prior to Revenio, he was a co-founder and the VP of Technology at Open Market (one of the first eCommerce IPOs), a pioneering developer of Internet commerce application software. He built the company's development infrastructure and was a co-inventor of the company's commerce architecture and technologies. He also helped bring the company through a series of financings, including a public stock offering in 1996.
Andy holds 8 patents, and received a B.S. with distinction in Electrical Engineering from Cornell University.